I go to parties with mermaids – that basically makes me better than you. But don't get too riled up – as of last week – I had never been to a mermaid party either!! Last Thursday, Scarlett Taylor and I rolled up to Tamsin Lonsdale's "Secret Garden" party held at the home of Young, Fabulous & Broke creator, Heidi Cornell. The Tarot readers, Meg's BBQ, Jack Wines and (ri)1 whiskey, guitar players and pretty people could not distract me from the pool. "Scarlett," I said, "there is a mermaid in the pool." Scarlett looks at the girl swimming around half naked and said "I want to go in. How cool. Wait, what is she wearing? What's that in the water with her?!" And with that, we had our first mermaid sighting. She jumped up and dove backwards into the water, showing off her seashell brasserie. In dove the arms and head, followed by her bare midriff and sexy butt, and then we saw it – the long, muscular, golden tail of mermaid flipped up splashing water on the guests like a fish and then sank back down under the surface! Scarlett and I starred in shock and both agreed that mermaids are WAY cooler than vampires. Like a scene out of Peter Pan, the crowd watched mesmerized as the pretty mermaid tossed smiles at the guests, splashed around and let all the boys touch her tail!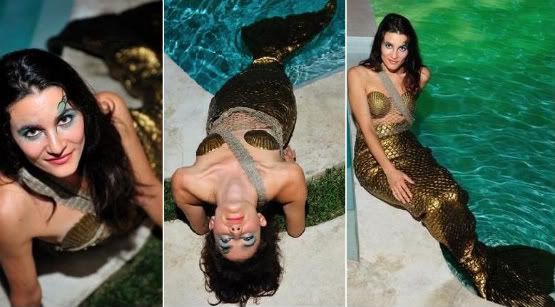 Mermaid Mesha Kussman, creator of the Aqualillies
We were finally ushered away to have our Tarot Cards read and met the rest of the party guests which included friend, LA Native, and creator of YoungHollywood.com, RJ Williams, my good friend Carly Steel (pictured right) who you may have seen this weekend hosting the Emmys for CW and making cameos at the ET, People and HBO parties, Alexandra Lynn Gaudiani, the former power publicist from 42 West, PMK and Paramount Pictures, Nzinga Blake, a Current TV host and Sierra Leonean native, and Alexander Purcell (pictured left) owner of design firm APRRO, in Los Angeles.
Other interesting Supper Club members include Sebastian Mathews, Cori Diamond, Monika Jakisic (pictured left), a Croatian model who use to date George Clooney, and my latest favorite transplant you will be hearing a lot about from now on – Tracy Bjelland (pictured right). Tracy refers to herself as an "Ice-Cube" – half Norwegian, half Cuban, she hails from Olso, via London and Harvard University in Boston where she was a member of "The Hasty Pudding Club." The newly launch Supper Club website allows members to view photos from the events and reconnect with guests they met at the parties. http://www.thesupperclubinc.com/

Zachary Serebrenik and friend, Miles Fisher, Tamsin Lonsdale with Alex Purcell
About The Aqualillies:
The synchronized swim troop books private parties all over LA. They told me over the holidays they we will be creating a cute new red and white themed costume for their shows. They train at various Olympic pools in Orange County and starting in November – they are going to be holding workshops! Information about the workshops will be on their website soon! www.Aqualillies.com.
Related Stories on Daily Truffle: Supper Club hosts "Black Dahliance" party for Carly Steel
Related Stories on Daily Truffle: Aqualillies Live at the Hollywood Roosevelt Hotel Thursdays
Leave a comment